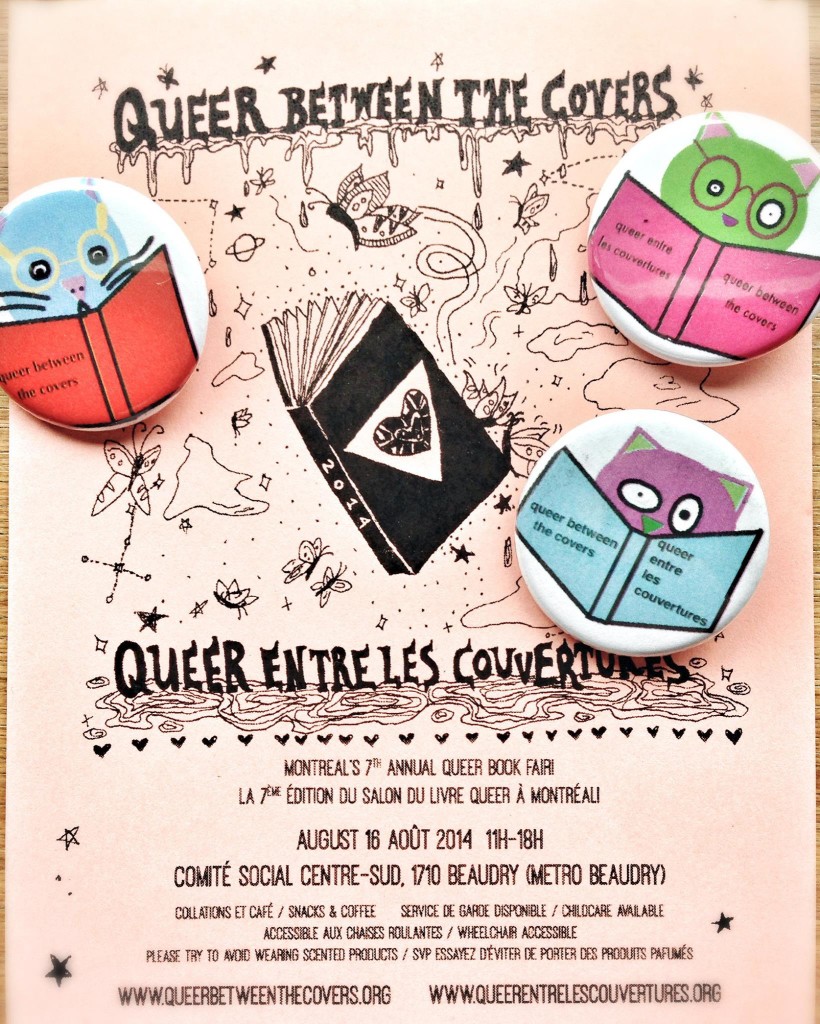 Queer Between the Covers, Montreal's annual queer book fair, is almost upon us!
Join us:
August 16th
11AM-6 PM
Comité social Centre-Sud
1710 rue Beaudry
Wheelchair-accessible venue (more details below)
Please note that the entrance to the book fair will be through the parking lot on the south side of the building,
Books and zines and snacks! Free entry! Bus tickets available!
Childcare available
We are striving to make QBTC a scent-reduced space – please try to avoid wearing scented products (perfume, cologne, deodorant, etc)! Tips for scent-free events here: http://www.anapsid.org/cnd/files/how2bscentfree.pdf
Please get in touch for more accessibility information!
queerbetweenthecovers@gmail.com
◊◊◊◊◊◊◊◊◊◊◊◊◊◊◊◊◊◊◊◊◊
QBtC aims to provide access to queer materials that can be difficult to find in the city, as well as to support queer cultural production.
This book fair, now in its seventh year, is part of the alternative Pride event called Pervers/cité, a radical response to the continued commercialization and de-politicization of mainstream pride events in the city.
The bookfair attracts hundreds of people each year, and brings together both local and national independent bookstores, publishers, zinesters, authors, and community groups.
Queer Between the Covers is organized by a collective of volunteers based in Montreal, with the support of the Quebec Public Interest Research Group (QPIRG) at Concordia. The collective also maintains a year-round queer book and zine distro and puts on book launches and other smaller events every few months.
If you would like to volunteer for the book fair, please send us a message here, or at our email: queerbetweenthecovers@gmail.com.
The bookfair is being held in a wheelchair accessible space with wheelchair accessible, gender-neutral washrooms.The entrance doors are 30 inches wide and the two ramps leading to the space are 43 and 45 inches wide respectively. The bathroom doors are also 30 inches wide.
The bathroom door does not have a push-button, but there will be volunteers available to open the door. The volunteers can be contacted at the welcome table, or by telephone at a number that will be posted on the door to the bathroom. We apologize for any inconvenience this causes.
Follow us
here on Facebook!
on Twitter @queerbookfair
at www.queerbetweenthecovers.org
#queerbookfairmtl2014
2014 participants:
Annie Mok, Philadelphia
B&D Press, Montreal
Bibliothèque à livres ouverts, Montreal
Bits of String, Toronto
Bluestocking Books, New York
Cakes Craftables, Montreal
Cathy G. Johnson, Rhode Island
Concordia Co-op Bookstore, Montreal
Crooked Fagazine, Montreal
Éditions SGL, Montreal
Elisha Lim, Kama La Mackerel and Ruben Llanillos, Toronto/Montreal
Elliott DeLine, The Purrcolator Press, New York
Fernwood Fernwood Publishing & Roseway Publishing, Black Point NS and Winnipeg MB
Fight Boredom, Montreal
Frankie Evans, Montreal
Hoax Zine, New York
Ianna Book, Montreal
Jenna 'Charlie' Meyers, Montreal
JJ Levine, Montreal
Justseeds, Toronto/USA
Kersplebedeb, Montreal
Lesbian Herstory Archives, Brooklyn
LGBT Books to Prisoners Project, Madison WI
Lonely Dog, Montreal
Musterni, Toronto
NOLA community print shop, New Orleans
O Horvath/ Mimi Chrzanowski, Rhode Island
Pansy Twist, Toronto
Papercut Zine Library, Boston
Pigeon Press, Montreal
Plenitude Publishing Society, British Columbia
Prisoner Correspondence Project, Montreal
Queer Between the Covers Zine Distro, Montreal
Queer/Trans* People of Color Zine Distro, Montreal
Rebuild Printing, Toronto
Sellers & Newel Second-hand books, Toronto
Sophie Yanow, Montreal
Ste. Emilie Skillshare, Montreal
Telegram zine, Toronto
The Holy Male, Montreal
Ultraviolet, USA
Underwater City Project, Montreal
Union for Gender Empowerment (UGE), Montreal
Venus Envy, Ottawa
Zinta, Montreal