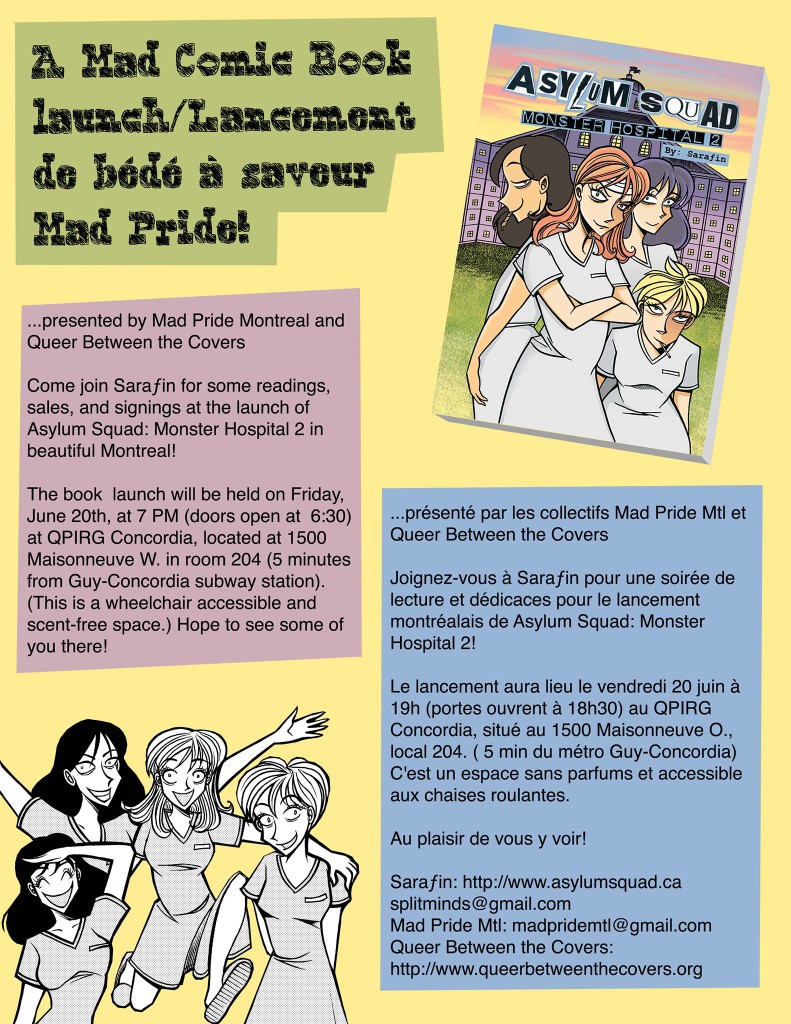 …presented by Queer Between the Covers and Mad Pride MTL
Come join Saraƒin for some readings, sales, and signings at the launch of Asylum Squad: Monster Hospital 2 in beautiful Montreal!
The book launch will be held on Friday, June 20th, at 7 PM (doors open at 6:30) at QPIRG Concordia, located at 1500 Maisonneuve W. in room 204 (5 minutes from Guy-Concordia subway station).
This is a wheelchair accessible and scent-free space.
Hope to see some of you there!
Saraƒin: http://www.asylumsquad.ca/ splitminds@gmail.com
Mad Pride Mtl: madpridemtl@gmail.com
Queer Between the Covers: http://www.queerbetweenthecovers.org/
♥♥♥♥♥♥♥♥♥♥♥♥♥♥♥♥♥♥♥♥♥♥♥♥♥♥♥♥♥♥♥♥♥♥♥♥♥♥♥♥
Lancement de la nouvelle bédé de Saraƒin!
…présenté par les collectifs Mad Pride Mtl et Queer Between the Covers
Joignez-vous à Saraƒin pour une soirée de lecture et dédicaces pour le lancement montréalais de Asylum Squad: Monster Hospital 2!
Le lancement aura lieu le vendredi 20 juin à 19h (portes ouvrent à 18h30) au QPIRG Concordia, situé au 1500 Maisonneuve O., local 204. ( 5 min du métro Guy-Concordia)
C'est un espace sans parfums et accessible aux chaises roulantes.
Au plaisir de vous y voir!
Saraƒin: http://www.asylumsquad.ca/ splitminds@gmail.com
Mad Pride Mtl: madpridemtl@gmail.com
Queer Between the Covers: http://www.queerbetweenthecovers.org/fr